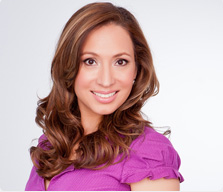 Dr. Alicia Barba is a Miami-based board certified dermatologist who is a recognized authority on cosmetic dermatology and skin treatments. She has lectured nationwide on acne and non-invasive cosmetic procedures, and has been chosen to teach other physicians on how to safely administer Botox®, Dysport™, as well as a number of dermal fillers. Dr. Barba is often asked to share her expertise to the English and Spanish-speaking media about the latest advancements in skin care technologies and has served on advisory boards of national and international skin care companies.
Dr. Barba is founder of Barba Dermatology and Barba Skin Clinic, state-of-the-art centers for medical and cosmetic skin treatments. She has the scientific and medical training to diagnose and treat a wide range of skin conditions and to perform advanced therapies to beautify the skin. She is devoted to sharing her expertise with her patients through an array of services she performs at her Miami offices, including general, pediatric and surgical dermatology for the treatment of skin cancer and growth removal. As co-founder of Barba Skin Clinic, the go-to Miami destination for clinical facials and permanent hair removal, she is active in developing treatment protocols and the training of her aestheticians to serve the beauty needs of Barba Dermatology clientele so that they deliver results.
Dr. Barba is a member of the American Academy of Dermatology, the American Society for Mohs Surgery, and the Miami Dermatology Society. In addition to her private practice, Dr. Barba works with International Dermatology Research where she serves as a primary investigator for clinical trials testing new dermatology medicines and cosmetic treatments for FDA approval. Dr. Barba has completed over 65 clinical trials for medicines treating various conditions such as acne, dark spots, wrinkles and skin infections.
Dr. Alicia Barba received her medical degree from Harvard Medical School, completed an internship in Internal Medicine at Cambridge Hospital, and completed her dermatology residency at the University of Miami School of Medicine. Of Mexican heritage, Dr. Barba is fluent in Spanish, Italian and Portuguese and gladly welcomes an international clientele to her practice.
Dr. Barba is married to Costantino Cicchelli, co-founder of Barba Skin Clinic. Together they have a daughter, Alessandra. A San Diego native, Dr. Barba comes from a family of six siblings. Four of five sisters, and a brother in law, are in the dermatology field. She enjoys working with sister Stella, and together love attending family gatherings where everyone sits around and "talks shop" sharing the latest technologies and success stories.